Optica gives high vitality accuracy mirrors to laser depressions and requesting applications. Our custom high-reflectivity mirrors convey better execution and incentive than clients structuring and constructing laser depressions from little, lightweight territory discovering lasers to high laser harm limit mechanical lasers.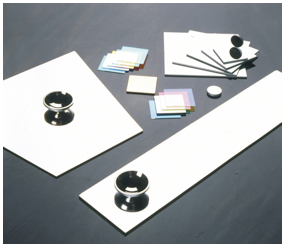 Aluminium Mirror Shapes
Optical Grade Flats Mirror

Spherical Mirror

Aspherical Mirror

Flat Mirror

Square Mirror

Off-Axis Parabolic

Parabolic Mirror

Gold Coated Mirror
METALLIC MIRRORS – GOLD, SILVER & ALUMINIUM
Mirrors with flat, spherical or Parabolic surface, coated with protected gold, silver or protected aluminium. Metallic coated  mirrors are widely used due to a high level of reflection over a very broad spectral range.
Protected gold coatings have the highest reflectance in Infra-Red wave length, protected silver is the most efficient in VIS to Near IR , Protected Aluminium coated Mirror is an economical reflector over entire 300nm-IR range. The top layer of dielectric material protects the metallic coatings and makes metallic mirrors durable and stable within long term of operation.
Enhanced metallic coatings with greater reflection across the required  spectrum can be done on request. The coatings for metallic mirrors are deposited using thermal evaporation and electron Beam  evaporation technologies.
These mirror coating can be done on Flat, Aspheric, Parabolic & Off Axis parabolic on Glass as well as on Metal on any shape.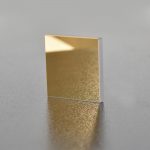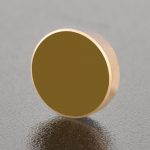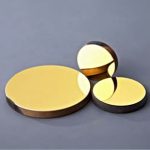 Parabolic Mirrors are used to collect energy from a distant source (Example: sound waves or incoming light)..  Parabolic mirrors are used to gather light in different types of reflecting telescopes  Parabolic antennas are used to radiate a narrow beam of radio waves for point-to-point communications in satellite dishes and microwave relay stations, and to locate aircraft, ships, and vehicles in radar sets.
Parabolic mirrors are typically designed as a segment of a larger parabola, manufactured from a metal substrate such as Aluminium  or Optical Glass and coated with enhanced aluminium, silver gold, Dielectric , HR coating  as standard. These mirrors focus light similar to a concave mirror with the significant exception being that the off-axis parabolic design redirects the incident light through 90%.
Custom mirrors may be manufactured in a range of substrates and alternative coatings done as per customer's specifications including UV,VIS and IR coatings on different substrate like metal, Optical Glass & Ultra Low thermal  Glass. 
Off Axis Parabolic Mirror
An Off-Axis Parabolic mirror collects collimated light and focus it at a specific angle outside the incoming light path. As a reflective mirror, chromatic aberration are eliminated and at the focal point, Off Axis Parabolic Mirrors are used in LIDAR/LADAR systems and other laser scanning applications where light required to be collimated.
Optica Provided 1" to 12" Off Axis Parabolic mirrors against customer requirement or drawings as Custom design. We Can supply these mirrors with different type of coating used in Laser and imaging . Material we can process is Zerodur, Fused Silica and Aluminium, Copper etc .
Spherical Mirror (Concave)
A Concave Mirror or a diverging mirror is a curved mirror in which the reflective surface bulges toward the light source. Concave mirrors reflect light outwards; therefore they are not used to focus light. Such mirrors always form a virtual image.
As a result, images formed by these mirrors cannot be projected on a screen, since the image is inside the mirror. The image is smaller than the object, but gets larger as the object approaches the mirror.
Precision Spherical Mirrors
Precision Spherical Mirrors are designed for research and technical OEM applications in the UV, visible or IR ranges. All are ground, polished. Each size is available with various reflective coatings. These mirrors have a Surface Accuracy from λ/4 to λ /10 and Sizes vary up to 150mm.
We can supply large dimension Mirrors Spherical or Parabolic from 300mm to 1000mm with a thickness of 50mm to 125mm with Surface accuracy of λ /4.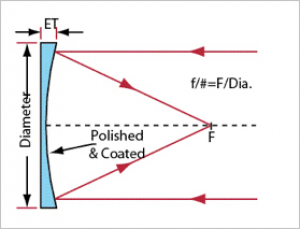 These mirrors are aluminized on the surface nearest the incident light. Energy loss is minimized because light does not pass through the glass substrate. We have shapes available in circle, square and rectangle. Custom sizes are available for volume OEM requirements.
Cold Mirrors reflect visible wavelength and Transmits IR hence it can be used to build projection systems without worrying about heat build-up with our 0° angle of incidence cold mirrors. The multi-layer dielectric coating on these glass mirrors reflects 90% of visible light while allowing better than 80% transmission of IR waves. Cold mirrors are ideal for illumination systems where high temperature lighting is not desired. Mirror will function satisfactorily and will not be damaged by exposure to an ambient temperature of -50°F to +450°F.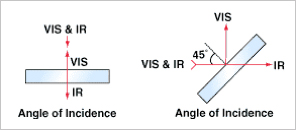 Reflect IR
Transmit Visible wavelength
 Available for an angle of incidence of 0°, these heat reflecting mirrors   can be used in a variety of optical systems where heat build-up is a   concern. Applied mainly in projection and illumination systems, the   multi-layer dielectric coating on the mirrors reflects harmful infrared   radiation (heat), while allowing visible light to pass through. Hot mirrors   make an intelligent addition to optical systems that could otherwise be damaged by excessive heat.
Note: Whenever using high power illumination, forced air cooling is recommended.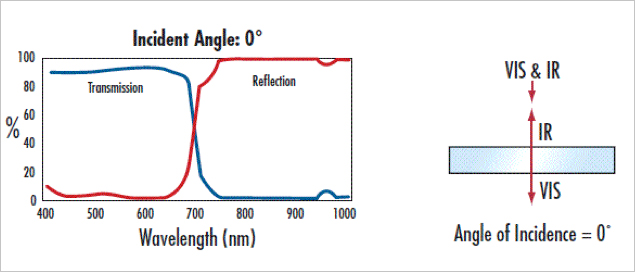 Laser Mirrors are used for beam-steering in demanding laser applications. Laser Mirrors are Optical Mirrors that have been designed for specific laser types or wavelengths. Laser mirrors have high reflectance and superior surface quality and accuracy which make them ideal for demanding applications. Designed for 0º or 45° angle of incidence, the reflectance varies minimally for different polarization states when used in the appropriate wavelength range. Featuring a high damage threshold, 266nm, 355nm, 532nm and 1064nm high power laser line reflectors are suitable for beam steering Nd: YAG lasers.
Damage Threshold of up to 20 J/cm2 for 532nm and 1064nm Reflectors
>99% Reflectivity at Design Wavelength
>98% Reflectivity within Specified Wavelength Range
Available for Ultraviolet, Visible, and Near-IR Lasers
| Specification | Grade |
| --- | --- |
| Material | BK7 |
| Diameter Size | 10mm To Maximum |
| Thickness Tolerance | +0.0, -0.03mmn |
| Angle Of Incidence | 45` |
| Effective Focal Length | +2% |
| Dimension | +/-0.2 (General), +0/-0.05 (High Precision) |
| Flatness | Lambda/2(General), Lambda/8 (High Precision) |
Material

Surface Flatness @632.8 nm

Parallelism

Bevel/Chamfer

Coating Options

BK7 (Schott) or Equivalent

Lambda/4

<=2 arc min

0.3 x 45°

Aluminium Protective

(Ravg > 85% @ 400 - 700nm)

(Ravg > 90% @ 700 - 2000nm)




Gold Protective

(Ravg > 96% @ 700 - 2000nm)

(Ravg > 96% @ 2000 - 10000nm)
| Diameter | Thickness |
| --- | --- |
| 12.5 mm +0.0 / -0.2 mm | 2 mm +/-0.1 mm |
| 25 mm +0.0 / -0.2 mm | 2 mm +/-0.1 mm |
| 37.5 mm +0.0 / -0.2 mm | 4 mm +/-0.1 mm |
| 50 mm +0.0 / -0.2 mm | 6 mm +/-0.1 mm |
Material

Surface Flatness @632.8 nm

Parallelism

Bevel/Chamfer

Coating Options

BK7 (Schott) or Equivalent

Lambda

<=5 arc min

0.3 x 45°

Aluminium Protective

(Ravg > 85% @ 400 - 700nm)

(Ravg > 90% @ 700 - 2000nm)




Gold Protective

(Ravg > 96% @ 700 - 2000nm)

(Ravg > 96% @ 2000 - 10000nm)
| Diameter | Thickness |
| --- | --- |
| 12.5 mm +0.0 / -0.2 mm | 2 mm +/-0.1 mm |
| 25 mm +0.0 / -0.2 mm | 2 mm +/-0.1 mm |
| 37.5 mm +0.0 / -0.2 mm | 4 mm +/-0.1 mm |
| 50 mm +0.0 / -0.2 mm | 6 mm +/-0.1 mm |