Optics and Allied Engineering Pvt. Ltd. is an established Indian company since 1985, supporting Medical, Aerospace, Astronomy, Automation, R&D Labs, IR Optics and large size schileren system for wind tunnels. Our focus has been on Indian & Global customers in the areas of Precision Optics, IR Optics and Polymer Optics.
We are an ISO 9001-2015 Certified company.

Optica works with each customer as a partner from the initial concept drawing to prototype sample to production and support technically. We take pride in giving a complete solution that meets customer requirements.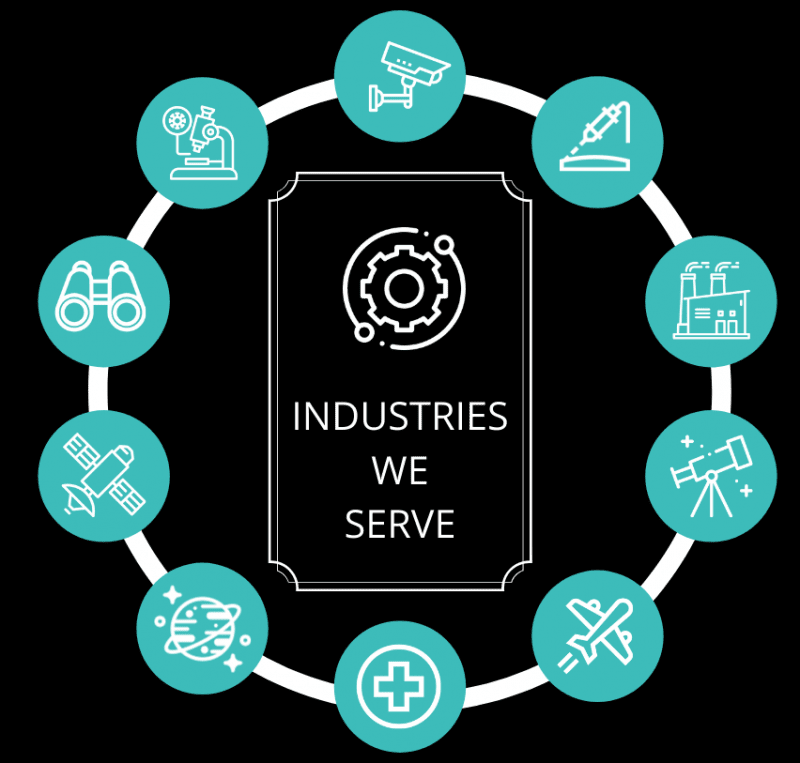 PRECISION OPTICS & IR Optics
Area Of Expertise
Lenses: All kinds of lenses of diameter from 6mm – 300mm with high accuracy.
Windows: Diameter up to 900mm, Thickness up to 200mm with good surface quality.
Optical Filters: Color glass filters from Schott, Hoya, etc. in required dimensions.
Prisms: Right Angle, Dove, Retro reflector, Penta prism, Equilateral and wedge prisms with tight tolerances.
Interference Filters: Wavelength 340nm to 1600nm, Bandwidth 6 to 50nm, Dia.10mm to 25mm.
Beam Splitters: Plate as well as Cube Beam Splitters with Transmission, Reflection ratio equal to 50:50 and 70:30
Material can be Processed: BK-7, Fused Silica, Pyrex, ZnSe, Germanium, Charcogenide, Si, Zerodur, Sapphire, CaF2, ZnS, etc.
Manufacturing Facility
Capabilities
Testing Facility
Area Of Expertise
Wide variety of Mounts: Mirror mounts, Lens mounts, Self centering lens mounts, Gimbal mounts, etc.
Lens Barrels: Precision barrels for Beam Expanders, Telescopes, Microscopic Objectives, Eyepieces, etc.
Translation / Rotation stages: Compact Translation stages, XYZ Translation stages, Long /Medium Travel Stages, Rotation stages, Heavy Duty Rotation stages etc..
Motorized products: Translation/ Rotation Stages with Integrated Controller, Motorized Mirror Mounts, Motorized Filter Wheels, etc.
Mount/Stage Accessories: Post, Post Holder, Post base, Translating Post Holder, Lens Adapters, Aluminum Bread Boards, etc.
Manufacturing Facility
Core Competence
Testing Facility
Area Of Expertise
Broad Band Anti Reflection Coatings for required bands of wavelength
HR mirrors for laser reflection upto >99.8%
High Damage Threshold Laser Coatings  AR Coatings
Multi Layer Anti Reflection Coatings for wide wavelength ranges
Single layer ARC for required wavelengths
Interference filters of required peak wavelengths and band widths
Multi layer Dielectric coatings for Beam splitters of required T/R ratios
Cold mirrors, Hot mirrors, Filters, etc.
Gold Coating for IR
Enhanced and protective Aluminium coating for Mirrors of UV and Visible applications
Manufacturing Facility
Core Competence
Testing Facility
We are using high performances lenses in Medical Industry and Optica provides best solutions for us. As a high tech company, Optica is one of our best partners. Thanks for your support.
Tamer Beser - General Manager
Oltre Medical VE Electronic Devices INC, Turkey
Good supportive staff and very good quality on parts with best price
Mohan kumar R
Collins Aerospace, Germany
Optics provided us a Professional customer support. Friendly approach by the Management towards negotiation and fulfillment. Really pleased. Thank u
Asif Masood
Managing Partner - United Trading
Good products, good services
Chetan
Owner - Benaka Healthcare
Bought mukh raksha face shield. Completely satisfied with the product design and the safety aspects and suggested some of my other plant colleagues to try these products.
Paramasivan A
Deputy Manager - Bosch
Professionally managed company which manufacturers very good quality Products. The CEO Mr. Kishor Kotaria is a thorough gentleman and a down to earth person. The customer service manager Ms. Suman Dwivedi is quite a efficient and competent person with short notice could able to organise the dispatch of ordered items in an efficient manner.
Abel Alexander
Chief Executive
The product was of very good quality, Precise designing, hassle free installation, it stands against variety of low quality products and designs available currently in the market.
Dr. Blessy George
Managing Partner - ABdiel Creations
Optica has been a hub of innovation & support. We have recieved technical & business guidance from their team of experts. Their advancements in technology has been critical for us to make complimentary hardware products for our AI products.
Abhishek Kaushal
CEO, Rayd8
Face shield is good and also employees
MaxxSafe Inc
Managing Director